No matter the size or uniqueness of your space, lighting is one of the central components to consider when planning an interior design project.
The right kind of lighting can enhance any
area
–
from
drawing attention to key features
to
creating cosy nooks
–
and
generally mak
e
the
space feel larger
,
lighter
and brighter
.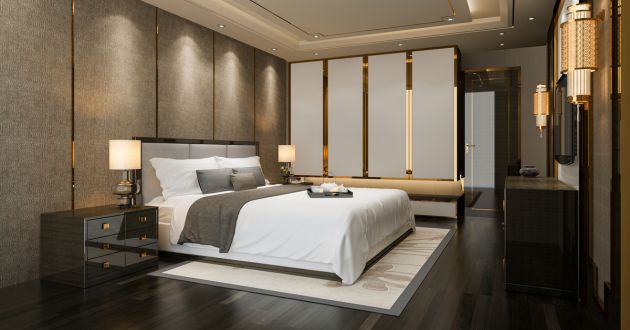 Superyachts are unique spaces in their own right. While there will of course be safety and functional elements to consider, the right marine lighting system should enhance the luxury and ambience across your vessel without sacrificing quality. 
The layers of lighting
Most interior designers think of lighting in three layers: 
Ambient lighting: the overall light that sets the foundation in the room. 

 

Task lighting: light that is directed towards a smaller focal point, which is particularly useful for areas that task-focused activities take place in, for instance cooking or reading.

 

Accent lighting: used to highlight features or focal points, such as architectural lines or artworks.

 
When these three layers are combined, the result is a much more dynamic, interesting, and functional lighting layout. 
Layered lighting can be the key to setting the right mood across your vessel, from creating areas of calm and relaxation to lively dining and entertaining – so it's a vital thing to get right.  
Going bespoke
Many common marine lighting mistakes can be made inadvertently if the right expertise isn't applied. For example, if a beam of light isn't focused in the right direction or a bezel doesn't have the right finish, it can downgrade the overall appearance and wow factor.  
In many cases, off-the-shelf products simply won't meet the requirements of a space as unique as a superyacht. When rebuilding or refitting your vessel, you'll undoubtedly have it customised and personalised to suit your lifestyle. So, why should your lighting be any different? 
If you have a specific refit or rebuild lighting challenge, commissioning a new product to be developed may ultimately be the best option. Find out more about our bespoke lighting services for superyachts here. 
Circadian Lighting
While lighting undoubtedly serves a practical purpose, it can also play a bigger role in our relationship with the space we're in.  
Recent studies have demonstrated how some types of artificial lighting at night can cause serious circadian and physiological disruption. In addition, higher light levels during the day can lead to better sleep and lower depressive symptoms. Read our article on the benefits of circadian lighting systems here. 
Lighting for superyachts
Marine lighting must deal with variable temperatures, the most adverse weather conditions and nautical elements, all of which aren't even a consideration for most lighting systems. At Savage Lighting, we like to blend form and function seamlessly; all our products have the highest quality finish, the latest technical advancements, and most importantly, are reliable and meet all safety standards. 
With an extensive product range created from solid marine grade materials or light weight, low temperature injection moulded polymer, Savage Lighting is regarded by many as the leading supplier of light fittings to the superyacht industry and marine leisure market.  
For more information about how we can use lighting to enhance the space aboard your vessel, please do not hesitate to get in touch with our friendly team today.